EMWA Webinars Programme
EMWA webinars help members to develop skills and keep up to date with new or rapidly developing areas. Most of our webinars are live, online seminars with the opportunity for participants to ask questions. For live webinars, you only need to register – you will need your EMWA membership details.
Live webinars are recorded and uploaded to the Webinar Archive soon after the event. The Webinar Archive is only accessible to EMWA members.
Each year we run a few webinars that are publicly available.
Diana Ribeiro is the EPDC member responsible for webinars. With the support of the webinar team, Diana leads, plans and promotes the programme, helps presenters to prepare for their webinars, provides quality assurance, and runs the live webinars. The webinar team also provides analysis of the webinar metrics.

Meet the EMWA webinar team
Johanna Chester
Johanna Chester is responsible for webinars. With the support of the webinar team, Johanna leads, plans and promotes the programme, helps presenters prepare for their webinars, provides quality assurance, and runs the live webinars. The webinar team also provides analysis of the webinar metrics. She is a freelance medical and scientific writer based in Modena, Italy, with a passion for clarity, appreciates the complexity of achieving simplicity and is dedicated to ongoing learning. She has co-authored over 60 publications in indexed journals in various disciplines, ranging from surgery, dermatology, nephrology, urology, haematology, biomedical sciences, and laboratory medicine. She teaches Medical Writing at various hospitals in Italy. 
Johanna has been an active EMWA member since 2022, working with the Freelance Business Group and with the Webinars program, and in the creation of the Italian medical writers network. 
Diana Ribeiro
Diana Ribeiro is a pharmacist and freelance medical writer based in Cascais, Portugal.
Before starting her career in medical writing, Diana worked 10+ years in hospital and community pharmacies, where she helped patients and healthcare professionals with drug management and information.
Nowadays, she helps pharma, biotech, and meddev companies communicate with their audiences in a clear, accurate, and compelling way.
Diana is an active member of the European Medical Writers Association: "Volunteering for EMWA has been a way to form great connections and to feel I'm making a useful contribution."
Heather Mason
My career has evolved over 25 years from laboratory research to clinical research, medical liaison and medical writing.
I have been a freelance medical writer since 2010, moving my business from the UK in 2013, to the South West of France; for a better work-life balance and to experience a new language and a new culture.
I have been a member of EMWA since 2018 and have found an incredible source of knowledge and support.
I have built trusted relationships globally with a wide variety of clients. My portfolio includes patient-focused materials, manuscripts, literature reviews, conference reports, news beats, editing and clinical evaluation reports.
While my more recent therapeutic experience is in COVID-19, HIV, orthopaedics, and Alzheimer's disease, I have worked on many other specialities. My passion lies in rare hereditary diseases and patient advocacy.
Paul Wafula
ABX-CRO
I am a medical writer specialising in writing, editing and updating a broad range of clinical trial documents for study areas including haematology, neurology and oncology.
I am currently a volunteer in the Webinar team, a role I have had the pleasure to serve in since 2018. Prior to that, I volunteered as a subcommittee member of the Freelance Business Group from 2016, when I joined EMWA, till 2018.
I started a career in medical writing in 2015, following over 10 years' experience in biomedical research.

Tania M. Puvirajesingh
Freelance Writer and Editor
I am an experienced PhD-qualified Biologist and Medical Writer. I hold a Bachelor's degree in Life Sciences from Imperial College London (2003) and a Master's degree in Clinical Infection and Microbiology from the University of Liverpool (2005).
In 2009, I obtained a PhD for developing innovative medical devices to functionally analyse glycan structures, which have molecular roles in the pathogenesis of Alzheimer's disease.
During my nine years' professional experience (2009–2018), I managed projects with key opinion leaders.
I have filed two patents on breast cancer and a nano-sized drug delivery structure. I have authored 22 scientific articles, reviews and book chapters in high-profile journals, including Nature Communications.
I have won a total of £495,000 in funding that has driven medical research projects. I also have digital, creative and web content management skills. I have joined the team to help deliver webinars on timely topics in medical writing.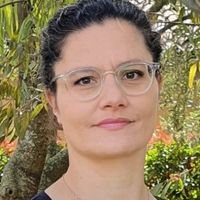 Maria Carolina Rojido
Carolina is a Medical Writer and Scientific Communications Consultant, medically qualified and skilled at reporting complex scientific information and working with key opinion leaders to write and edit medical communications, moderate advisory boards, and deliver educational seminars online and in-person.
She is adept at keeping abreast of current literature, emerging sciences, technological developments and medical trends, and exploiting her medical education and high adaptability on therapeutic areas to write and deliver high-quality medical documents.
Additionally, she is passionate about Sustainable Nutrition, i.e. predominantly plant-based nutrition patterns, and has created and delivered education to encourage dialogue among clinicians and scientists about nutrition.
We are happy to announce upcoming webinars below. Webinars may be either recorded and uploaded on the due date or live online seminars. For live webinars, you only need to register and then connect to our webinars platform on the due date. A recording will be available shortly after the event in the Archive section. Nevertheless, we advise you to participate, because this will enable you to ask questions and contribute to an active discussion. For the recorded webinars we encourage you to send us any questions you may have on the topic by the date indicated and they will be answered in the recording.
Please email the webinar team with any questions or accessibility concerns.
Note: We reserve the right to cancel a webinar if needed, although we will make all effort to avoid it. Also, we make every effort to ensure we have a stable internet connection to run EMWA webinars, but it is not possible to provide a 100% stable connection. If for any reason, the presentation has to be cancelled by the organiser, a notification email will be sent as soon as possible.
2023 WEBINARS:
Thursday, 16th February 2023, 14:00 CET
Fact-checking: what medical writers can learn from journalists
by Sampoorna Rappaz, PhD, Freelance medical writer and editor and Adeline Rosenberg, MSc, Senior medical writer, Oxford PharmaGenesis Ltd
We, as medical communicators, must ensure that all the hard facts and implied meanings in our deliverables are presented clearly, accurately, and precisely. Fact-checking, therefore, is an integral part of trustworthy communication. The practice is simple but not easy. Medical communicators can learn a lot from the journalistic practice of fact-checking. In this webinar we will cover the interesting history of fact-checking, the basic fact-checking process, how fact-checking is done in science journalism, checklists that can improve the efficiency of the process, expert tips from science journalists, and finally, how we can apply these learnings to medical journalism. Living in a post-truth world means getting your facts right!
This webinar can now be accessed here.
---
Wednesday, 8th March 2023, 16:00 CET
Good Publication Practice 2022: Focus on Medical Writing
by Lisa M DeTora, PhD, MS, Fiona J. Plunkett, PhD, and Zoe Preston, MPhil
This special seminar will focus on the development of GPP 2022 and the role of publications professionals in that process. You will be able to understand the portions of GPP 2022 that focus on the medical writing role and how to use it as a training tool. In this session, you are encouraged to bring your questions and comments about the GPP 2022, as we will have an extended Q&A after the presentation.
This webinar can now be accessed here.
---
Thursday, 30th March 2023, 13:00 CET
Next Generation Protocols - where are we going?
by Jonathan Mackinnon, PhD
The clinical research industry is going through a bit of a makeover and changes to clinical study protocols are coming from every direction. Whether it's ICH E8(R1), ICH M11, EU-CTR, decentralized clinical trials, complex designs or diversity, equity & inclusion; study teams are under increasing pressure to address new - and unfamiliar - requirements. What does this mean for regulatory medical writers? Study teams are turning to us and asking the same thing - what do we need to include in our protocol? This webinar provides an introduction of current challenges facing protocol development as well as key resources for further reading.
This webinar can now be accessed here.
---
Wednesday, 12th April, 2023, 16:00 CET
Ethical Issues in Clinical Trials
by Art Gertel, Principal, MedSciCom, LLC
This webinar will provide an opportunity to explore various ethical considerations associated
with clinical research and healthcare-related social justice. The format will be a conversation
between an "interlocutor" and Art Gertel, our resident bioethicist. Questions will initiate an
extemporaneous give-&-take.
Topics might include:
The evolution of patient protections – how did we get here?
Individual vs. society: is there a social contract?
Do desperate circumstances warrant desperate measures?
Is there such a thing as "one size fits all"?
This webinar can now be accessed here.
---
Thursday, 29th June, 2023 at 16:00 CET
An Ideal Medical Writing Team requires a continuous learning and development environment
by Dr. Namrata Singh, Founder and Director of the Turacoz Group
Dreaming of having an ideal medical writing team is only possible if we have an integrated learning and development system as a backbone in any company. Starting from newbies or professionals with limited experience to experienced medical writers who have worked in different companies, the transfer and sharing of knowledge and real life experience is what makes the difference. The webinar will talk about the levels of training that are essential to nurture new medical writers and adapt experienced writers to the changing times of technology and large language models like OpenAI etc.
External training program where the target are university graduates/postgraduates and newbies looking to enter the industry.
Induction training program to align the new medical writers (with different levels of experience) to the work processes in the company and training on mandatory skills
Continuous skill development on a half yearly basis to align with the career growth and where do the writers want to reach- is a customized program which is based on the writer's interest and the requirements in the company (wrt upcoming projects or business projections)


This webinar can now be accessed here.
---
Thursday, 27th July 2023 at 15:00 CET
Shedding some light on classification rules for Medical Device Software
by Katharina Friedrich, Dr. med. (MD)

The Medical Devices Regulation introduced a new classification rule especially for Medical Devices Software. Rule 11 provides information about the consequences for Medical Device Software which is used to make decisions for diagnostic or therapeutic purposes. Depending on the potential impact on a patient's state of health, the software can be classified as IIa, IIb, or even III when the decision might result in death or irreversible deterioration of health. In contrast to the Medical Devices Directive, it has become very difficult for stand-alone software to be classified as class I. But what software can remain class I? And what are the consequences of stricter classification rules? With the help of MDCG 2019-11 – the guidance on qualification and classification of software – this webinar will shed some light on classification rules for Medical Devices Software and will explain the challenges and consequences with practical examples.
This webinar can now be accessed here.
---
Thursday 21st September, 2023 14:00 CET
Pharmacovigilance Webinar: Reporting of Adverse Events 
by John Praveen
John Praveen is the Associate Vice President – PV Account Delivery and PV Shared Services Offering Lead at Accenture. He has more than 14 years of experience working with 10+ clients across geographics in PV Project Management and Service Delivery (across Pharmacovigilance, Medical Devices Vigilance, Cosmetovigilance and Nutraceutical Vigilance). He also leads and manages the Business Process Transformation (including technology enabled i.e macros, RPA, AI and Analytics), E2E Project Transitions, Training and Capability Development and supports with PV Business Development including pre-sales and end to end bid management.

John completed his Bachelors and Master's Degree in Biological Science and Microbiology & Immunology from St Joseph's University, Bangalore and PG Diploma in Medical Entomology and Medical Genetics from St Joseph's University in Bangalore. He also has a management degree from Indian Institute of Management, Lucknow. He is also an Accenture certified Business Advisory Expert.

This webinar will focus on the following topics:
History of Pharmacovigilance
Need for Pharmacovigilance
Basics of PV
ICSR and Classifications
Seriousness & Expectedness & Causality Assessment
Reporting Requirement
Aggregate Report
Signal Detection and Safety Surveillance
Please email info@emwa.org to register
---
Wednesday, 18th October 2023 at 16:00 CET
Medical Visual Communications
by Ana Goios, Carola Krause, Anna Isermann 
In today's digital era, effective communication has become indispensable for conveying information, capturing attention, and fostering meaningful connections. Join us for an engaging webinar on Visual Healthcare Communications, where we will explore the growing significance of visual aids in the medical field. In this session, we will delve into key concepts related to visualizing data and creating graphical abstracts, providing valuable insights for healthcare professionals and medical communicators. Don't miss this opportunity to gain insights from experts in the field and discover how visual aids can support your medical communications. We aim to provide participants with additional resources and information, including a sneak preview to upcoming session on visual communications at the next EMWA Spring Conference 2024. This will equip attendees with valuable references to further explore and enhance their visual healthcare communications skills. This webinar will inspire you to effectively communicate medical data and research findings through visually captivating means.
Further details to be announced shortly.
---
Wednesday 13th December 2023 at 16:00 CET
AI tools that support the medical writing workflow
by Katja Martin 
Further details to be announced shortly.
SEE PAST WEBINARS
(Member login required)
VOLUNTEERING FOR EMWA WEBINARS
If you think you have something interesting to communicate to other EMWA members and are eager to run a webinar of your own, contact the webinar team. Your proposal will be evaluated by the webinars team and the EPDC and we will provide our feedback as soon as possible.